All our teachers are committed to their ongoing personal practice and development and have either completed or are currently undertaking and Iyengar Teacher Training Programme. They are committed to attending regular programmes with senior teachers within Australia and overseas. Many regularly attend classes at the Ramanami Iyengar Memorial Yoga Institute in Pune, India.
Ashlea Wilken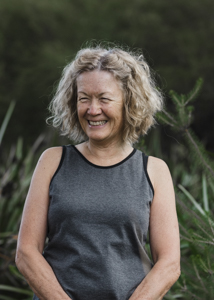 Ashlea first came to Yoga in 1979 whilst travelling overseas. In 1981 she completed a 6 month teaching course with Martin Jackson in Bondi, Sydney. Since then, Yoga has been woven into her life as a valuable tool in managing the many joys and pains that life presents. After moving from Sydney, Ashlea helped found the W.A. School of Yoga, Perth in 1985 with John Leebold and started teaching whilst pregnant with the third of her four children. As well as managing the School she has been coordinating annual yoga retreats in Bali since 1994 with Shane Moody and Caroline Coggins. Ashlea has been visiting Pune, India on a regular basis since 1995 to study with the Iyengar family, as well as yearly workshops with senior teachers here in Australia. She is a certified Iyengar yoga teacher.
Sue Edwards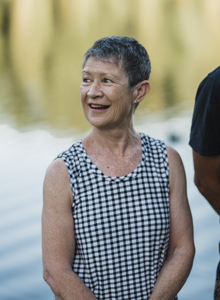 Sue has practiced different styles of yoga over many years and has chosen the Iyengar style to follow as it gives her a great sense of wellbeing and strength. She is a Certified Iyengar Teacher and travels to India to study with the Iyengar family. Her yoga journey has taught her that "Yoga is the golden key which unlocks the door to peace, tranquility and joy."
Kathy Rice
Kathy has been studying and practicing Iyengar since 1998. She was introduced to yoga after participating in a meditation course. At the time it felt too large of a leap from having no kind of 'practice', to sitting and 'watching the mind'. A friend suggested she tried yoga! A bio-product of the practice was healing and rehabilitation following a full knee reconstruction. The practice played an important role in regaining the strength and full range of movement in the knee.
Kathy is a dedicated student and teacher of Iyengar tradition. She has been teaching since 2000, gaining certification in the Iyengar Method in 2003, under John Leebold. When in Perth along with teaching Yoga she works as a Massage Therapist and as a Social Trainer, working with people with disabilities.
Kathy Elwell

Kathy began yoga in 1984 completing a teacher training course at Sydney Yoga Centre Surry Hills in 1999. In 2000 she started on the Iyengar path with Pixie Lilas at the Balmain Yoga Studio and Caroline Coggins at Kings Cross Yoga Centre. 2002 Kathy began a teacher training course with Pixie receiving her Level l certificate in 2004. After moving to Perth in 2005 she attended classes with John Leebold at W.A. School of Yoga upgrading to Level 2 and in 2015 to Junior Intermediate Level 1. Yoga is Kathy's foundation for life to bring about equilibrium in all the trials and tribulations of daily living whilst at the same time penetrating the vastness of spirituality.
Carolyn Oldham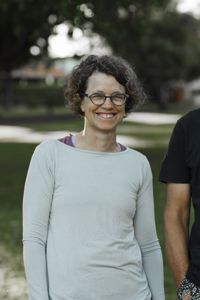 Carolyn began practicing yoga when pregnant with her first son in 1994, and in 2000 started learning Iyengar Yoga at the WA School of Yoga.  She trained under John Leebold to become a certified Iyengar teacher in 2013, and upgraded to Junior Intermediate level in 2017. Over the years, she has been taught and influenced by Marina Jung, Anne Horsley, Susie Bruggmann, Caroline Coggins, Mira Mehta, Father Joe Pereira, and more recently Lois Steinberg. In 2012, Carolyn was privileged to learn from Geeta and Prashant Iyengar at the Iyengar Ramamani Yoga Institute in Pune. Carolyn is also an environmental engineer and follows a Buddhist tradition under Rinpoche Namkhai Norbu. She finds the essence of yoga and the internal quietness it reveals, to be critical for integrating her professional and family busyness, into a rich and rewarding life.
Ross Parris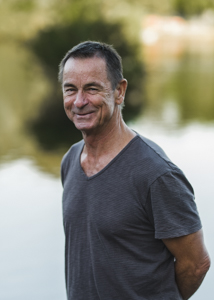 Ross was first introduced to Yoga in 1994 in New Zealand, and soon developd a deep love and respect for the subject. Living in the midwest of W.A he persevered alone with a mat and manual until finding an Iyengar teacher in Bernadette Mitsuda in Geraldton. She encouraged him to take the FINY Teachers Training Course at the Satyananda Ashram in Fremantle. He was then introduced to John Leebold at the W.A. School of Yoga, where he remains a devoted student. Studying under John and Marina Jung he gained certification in 2006. The same year he travelled to Pune, India to take instruction at the Ramamani Iyengar Memorial Yoga Institute. Ross began teaching in 1999 in the midwest, and since 2003 has lived and taught in Perth. He is committeed to advancing awareness of the 'art, science and therapy' of Iyengar Yoga.
Bill Rogers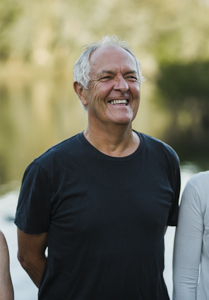 Bill was introduced to Iyengar Yoga in 2000 through weekly classes at his workplace and immediately liked the difference it made to his life and sought out the nearest Iyengar school, the W.A. School of Yoga (now known as Yoga West). Since then the importance of yoga in daily life has continued to grow and many hours per week are spent at the school as a student, practitioner, teacher trainee (under the tutelage of John Leebold) and now a certified Iyengar yoga teacher.
Bill regularly attends workshops and Bali yoga retreats and rates his first visit to RIMYI, Pune, India in 2011 as the highlight. Bill grew up and went to school in this part of town, has performed as a musican for 40 years, works as a public servant and is the proud father of four adult daughters, one of them a regular attendee at Yoga West (and he's "working on" the others!).
Daniel West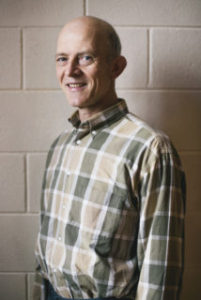 Daniel first became aware of yoga as a child, copying mom on the lounge room floor. He became interested in yoga in his early 20's, when physical exercise, discipline and athletics was particularly demanding – working from a book before and after regular strenuous sessions. Subsequently, practicing more formally at the Sivananda Ashram, he found yoga an antidote to the stresses of a demanding professional and family life.
Daniel came to Iyengar Yoga ten years ago at Yoga West and has been practicing assiduously since, becoming convinced of the benefit of Mr Iyengar's method over other forms. He undertook teacher training with John Leebold. Daniel has an Introductory Level II and attends numerous workshops with other senior teachers, the National Convention and attended a convention with Geeta Iyengar in South Africia in 2011.
Gary John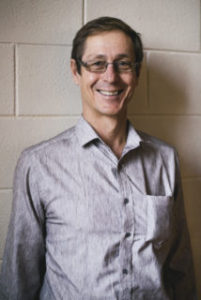 Gary discovered yoga in 1998 through his meditation teacher who recommended some classes at the WA School of Yoga (now YogaWest) to improve his meditation practice. Gary's curiosity in yoga began to grow as he discovered its many physical and psychological benefits. Gary has been teaching since 2012 and gained his Iyengar Level II certification in 2014. He is dedicated to the life long journey of developing his practice and teaching, regularly attending classes and workshops with senior teachers including the Ramamani Iyengar Memorial Yoga Institute in Pune where he first visited in 2009.
Coralie Benporath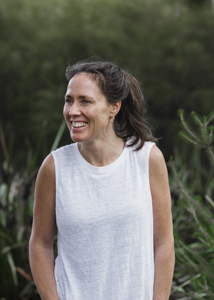 Coralie has been a practitioner of Iyengar Yoga for more than 15 years. She has been deeply inspired by the healing benefits of the Iyengar yoga method – having sustained a number of injuries herself; and also for others who she has taught and practiced with. She is in her third year of training under the guidance of senior teacher John Leebold, and spent 3 months training at the Iyengar Institute in Pune India during 2016. Also recognising the importance of a broader spiritual practice, Coralie has spent a number of years studying and practicing Buddhism. Her yoga practice therefore is grounded within a strong tradition of meditation and service to others.
Through teaching Iyengar yoga, it is her wish to pass on the understandings and experiences developed through the practice of yoga and meditation, so that others can also come to experience these benefits for themselves.
"Yoga does not just change the way we see things, it transforms the person who sees." B.K.S. Iyengar
Contact Us
We would love to hear from you! For any questions please contact us:
Email. info@yogawestwa.com.au
Phone. (08) 9381 9916
Find us upstairs above The Good Grocer (IGA), 16/159 Onslow Road, Shenton Park WA 6008