Monday

| time | level | teacher |
| --- | --- | --- |
| 6.30-7.30am | Level I Beginners | Naomi |
| 9:30-11am | Level II | Sue |
| 6-7:30pm | Level I/II | Ashlea |
| | | |
Tuesday

| time | level | teacher |
| --- | --- | --- |
| 6.00-7.30am | Level II* | Ross |
| 9:30-11am | Level I/II | Naomi |
| 11.30am-1pm | Older blokes | Bill |
| 1.30-3pm | Seniors | Ashlea |
| 4.30-5.30pm | Foundation Beginners | Lizette |
| 6-7:30pm | Level II | Ashlea |
| 7:35-8:45pm | Level I Beginners | Bill |
Wednesday

| time | level | teacher |
| --- | --- | --- |
| 6-8.30am | Group Practice | No teacher |
| 9:30-11am | Level II | Kathy R |
| 6-7:30pm | Level II | Kathy R |
| 7:35-8:45pm | Level I Beginners | Daniel |
Thursday

| time | Level | Teacher |
| --- | --- | --- |
| 6.00-7.30am | Level I/II* | Bill |
| 10-11.30am | Level I/II | Coralie |
| 5-6pm | Level I Beginners | Kathy E |
| 6:15-7:45pm | Level II | Kathy E |
Friday

| Time | Level | Teacher |
| --- | --- | --- |
| 6:00-8.30am | Group practice | No teacher |
| 9:30-11am | Level II | Ashlea |
| 11.30-1pm | Seniors | Ashlea |
| 6-7.30pm | Restorative | Greg |
Saturday

| Time | Level | Teacher |
| --- | --- | --- |
| 7-9am | Level II/III* | Rotation of Teachers |
| 9.15-10am | 6-11yrs (School terms only) | Amelia |
| 10.15-11.45am | Level I/II | Kathy R |
| 12.15-1.45pm | Level II | Kathy R |
| 2.00-3.00pm | Foundation Beginners | Gary |
| 3:15-4:45pm | Level I Beginners | Gary |
Sunday

| Time | Level | Teacher |
| --- | --- | --- |
| 8:15-9:45am | Level I/II | Ross |
| 10-11:30am | Level I/II ($10 class or $8 concession) | Teacher Trainees |
| 4-5.00pm | Foundation Beginners | LiMae |

*During Teacher Training modules these classes are taught by John Leebold
---
Payment
Click the button below for payment of upcoming Beginners courses and Events.

Go to our Online store and scheduler where you can create your personal Login and make payments for classes. Payments can be made by Visa secured by Ezidebit.
Please bring with you to class your receipt of payment.
OR DIRECT DEPOSIT DETAILS
Account name: Yoga West
BSB: 016 460
ACC: 3873 08439
Reference: your full name.
No Eftpos facilities at the studio.
CLASS CARD CONDITIONS
Cards are not valid beyond the expiry date unless previously arranged due to illness or away on holidays. 8 Class Card expiry dates may be extended by one month by paying an additional $10. All 8 class cards may be shared between two people (partners/friends) if nominated at time of purchase. Classes are non-refundable and non-transferable.
"I have tried yoga very briefly a few times before in my life but this time I have kept up a regular practice.  At Yoga West the teachers who really know their stuff have encouraged me to progress at my own pace yet have supported me to redefine my limits. 

Iyengar yoga at Yoga West has had a distinct spiritual emphasis which I have loved. 

It has been comforting for me to feel so welcomed and supported to continue with my yoga by fellow students and all the teachers. For that, I am truly grateful Yogawest." Peter Smith

"I have learnt so much and definitely seen an improvement in my practice since I have been coming to Yoga West. You have a fabulous team of instructors and the school's atmosphere is lovely. No matter where I go next, I will always have done my first head balance with you! " Sam
The perfect gift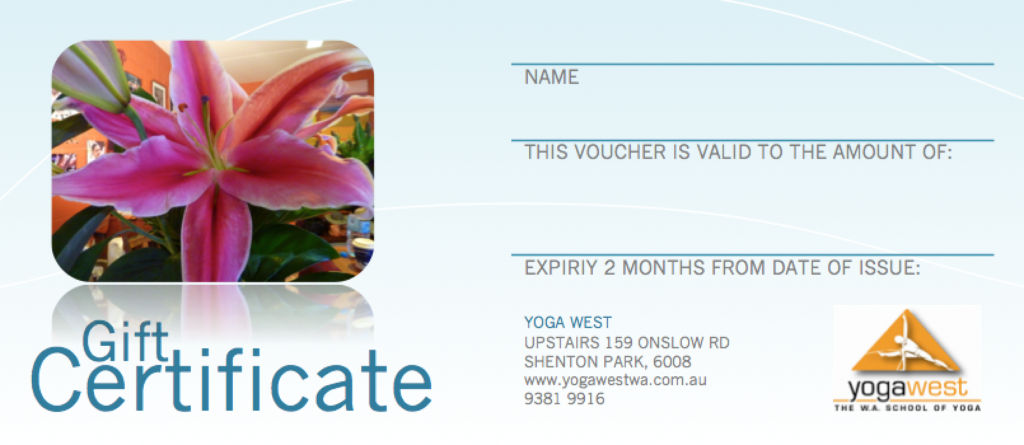 Give the gift of yoga to your family, friends or colleagues.
You can gift a Casual Class ($25), Beginners Foundation Yoga Course ($120), a monthly 8 Class Pass ($150) or a monthly unlimited ($230). Our gift cards are flexible, so we can help you choose the perfect gift and either post it out or have it ready for you to collect at the studio. You can also purchase, design and print your own gift certificate through Mind Body (click here).
Contact Us
We would love to hear from you! For any questions please contact us:
Email. info@yogawestwa.com.au
Phone. (08) 9381 9916
Find us upstairs above The Good Grocer (IGA), 16/159 Onslow Road, Shenton Park WA 6008