Yoga for children & teens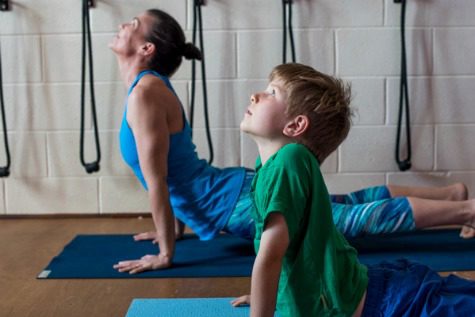 "For children, who are the custodians of each nation in particular and the whole world at large, I feel Yoga is the essential product of the twenty first century to lead them to perfect physical health and mental well-being" BKS Iyengar
Yoga for Children 
Yoga for children is a fun and non-judgmental way of channeling their energy to bring steadiness and stability both physically and mentally. By practicing regularly, strength, flexibility, co-ordination, concentration and confidence naturally increases.
Classes are held on Wednesdays and Saturdays during school terms for 6-12 year olds 
Saturdays 9.15 – 10.00am  from October 13 to December 1  
NEW CLASS Wednesdays 3.45pm – 4.30pm  from October 17 to December 5 
 Cost: $120 per term (8 classes) or $15 casual class
Yoga for Teens
Although yoga has many benefits for anyone at any stage in their life, yoga for teenagers can have a huge impact on development. Yoga helps to strengthen bones and muscles. When one reaches the adolescence stage, the postures can be approached with more time and concentration than when one is younger and the body is still developing.
Some teenagers find the stress of exams overwhelming. For others it is acute shyness or poor body image. Yoga allows them to connect with their body and this improves self-image.
Classes are held on Wednesdays during school terms for 13-17 year olds
NEW CLASS Wednesdays 4.45 – 5.45pm from October 17 to December 5
Cost: $120 per term (8 classes) or $15 casual class
Bookings essential. Click here to sign up 
Or Pay via Direct Deposit
Account name: Yoga West
BSB: 016 460
ACC: 3873 08439
Reference: your full name and course
Contact Us
We would love to hear from you! For any questions please contact us:
Email. info@yogawestwa.com.au
Phone. (08) 9381 9916
Find us upstairs above The Good Grocer (IGA) 16/159 Onslow Road, Shenton Park WA 6008
---
---