---
Teacher Training & Teachers Development
"It is relatively easy to be a teacher of an academic subject, but to be a teacher in art is very difficult, and to be a yoga teacher is the hardest of all, because yoga teachers have to be their own critics and correct their own practice. The art of yoga is entirely subjective and practical. Yoga teachers have to know the entire functioning of the body; they have to know the behaviour of the people who come to them and how to react and be ready to help, protect and safeguard their pupils". (BKS Iyengar, The Tree of Yoga – Yoga Vrksa.)
Yoga West's Iyengar yoga teacher training program is taught by senior teacher John Leebold. John began practicing Iyengar Yoga in 1973 and holds an Advanced Iyengar Teaching Certificate. He is one of the founding 13 Iyengar Yoga teachers in Australia, and has been a registered and practicing Osteopath since 1983.
Teacher certification is necessary to maintain and promote the quality of instruction as taught at the Ramamani Iyengar Memorial Yoga Institute (RIMYI) in Pune, India.
The Program prepares students for Introductory Level assessment, in accordance with the requirements and minimum standards set by the BKS Iyengar Yoga Association of Australia (the Association). Certification at Introductory Level is determined by an external assessment committee set up by the Association. Certification to Introductory Level with the BKSIYAA enables the recipient to call themselves an Iyengar teacher and use the Iyengar trademark.
A referral for assessment from John Leebold is needed to sit for assessment. This referral is subject to skill level achieved and an individual may require more than the minimum specified time on the Program to be ready for assessment.
Teacher Training Requirements
A student wishing to train as a teacher must have been practicing Iyengar yoga regularly for a minimum of three years (3 to 5 years depending on frequency of practice and class attendance) before undertaking training.
Our Teacher Training Course
This course is made up of modules totally 300 hours over 2 years, mostly over 3 week blocks from 6.00 to 8.30am Monday to Friday and 7-9am Saturday.
The Monday, Wednesday and Friday teaching sessions are also open to those teachers wishing to upgrade their Certification and further Teacher Development.
The course will cover: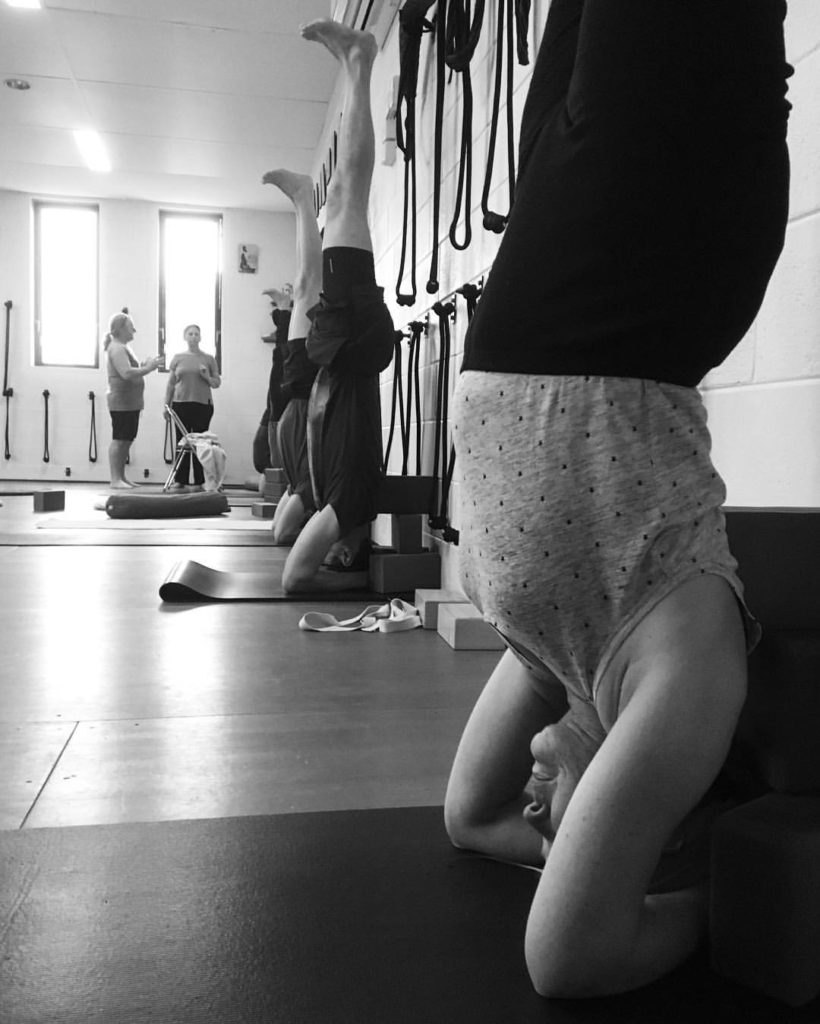 Learning yoga through the Iyengar approach to the Classical Astanga (eight limbed) path as expounded by Patanjali in the Yoga Sutras and numerous classical texts.
Practice of asana, pranayama, savasana.
Sequencing of postures
Supportive and restorative asanas.
Therapeutic considerations.
Use of props
Observation of, and correction of students, in classes.
Demonstration of asanas in teaching.
Meeting class and individual requirements.
Pre- and post-natal asana practice.
Teacher training dates for 2019
Monday 21 January – Saturday 9 February
Monday 6 May – Saturday 25 May
Monday 9 September – Saturday 28 September
Cost: $1084 per 3 week module, payable before the start of each module. If unable to attend the full module payment a minimum of 2 weeks is required.
---
Teachers Development
Certified Iyengar yoga teachers are required to complete 20 hours of ongoing training and personal development each year with a Senior Iyengar teacher.
There are three Teacher Development opportunities offered during the year during February, May and September.
The Teacher Development modules run in tandem with the Yoga West Introductory Teacher Training program ie: certified teachers work alongside teacher trainees.
Teacher Development dates for 2019
Monday 21 January to Friday 8 February
Monday 6 May to Friday 24 May
Monday 9 September to Friday 27 September
Mondays, Wednesdays and Fridays 6-8.30am
Each week is 7.5 hours of which you can attend 1, 2 or 3 weeks
Cost: $225 per week or $625 full module
---
Bookings & Payment
For Bookings and payment

Direct Deposit
Account name: Yoga West
BSB: 016 460
ACC: 3873 08439
Reference your full name
*Please note Visa payments incur a 2.5% transaction fee
For further information on teacher training with John Leebold please email Ashlea.
---
Geeta Iyengar says: "Teachers should practice the asana until they are very clear and secure about their understanding and demonstration. This will allow the teacher to teach from confidence and to focus awareness on the students."